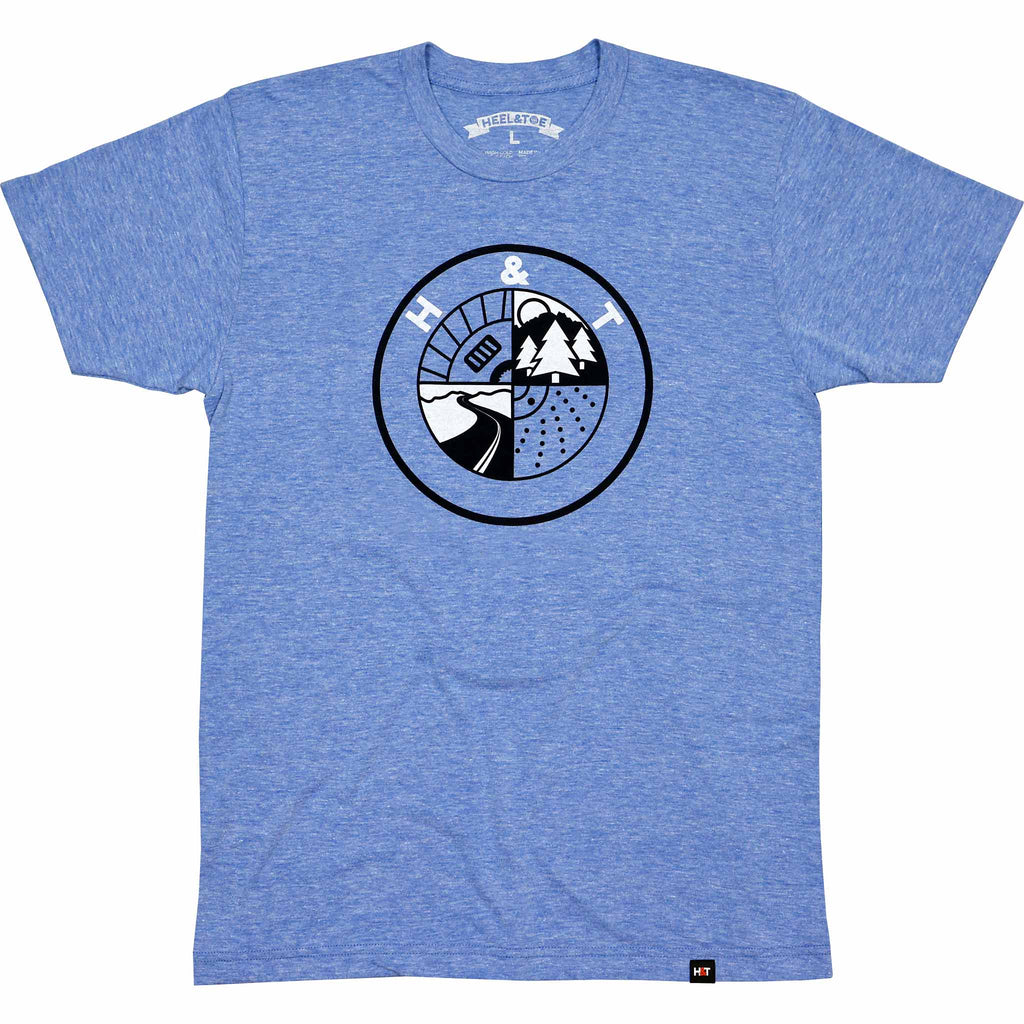 Heel & Toe Roundel Shirt
We've taken the elements from our crest and transformed them into a roundel inspired by our love of driving. The engagement of the clutch disc, hard braking on drilled rotors, carving into the winding roads, swathed in evergreens, aimed towards the peaks on the horizon, bathed in the warming rays of the rising sun. Representing not where we come from, but where we want to be. A black and white print on a Bavarian blue, ultra-soft, tri-blend shirt.
Silky-soft premium Los Angeles Apparel Tri-Blend shirt made in the USA
Water-based discharge ink for supple feel and vintage look
Printed collar 'tag' replaces itchy fabric tag
Embroidered H&T hem tag for bespoke feel
You like details? So do we:
The Shirt
We use a Tri-Blend Los Angeles Apparel shirt for this design, made proudly sweatshop-free in the United States. This incredibly soft and light shirt is the most comfortable we've ever worn and will become your go-to favorite. Sure, these cost us a few more dollars than other brands, but we believe the premium quality is worth every penny. Polyester (50%) retains shape and elasticity; Ring-Spun Cotton (25%) lends both comfort and durability; the addition of Rayon (25%) makes for a unique texture and drapes against the body for a slimming look.
 The Printing
Our shirts are silk-screened by skilled craftsmen in Orlando, Florida, at a shop renowned for their work with water-based and discharge inks. Unlike plastisol inks which place a layer of plastic-like ink on the surface, these special inks actually dye the fibers of the fabric. This leaves a printed area that is light and soft to the touch that won't crack and disintegrate from wear and washing. When using a lighter ink on a darker shirt (such as this design), a discharge agent is added to the ink that bleaches the original dye from the organic fabric; this creates a distinct heathered effect when used on poly-blend fabric, giving the print a broken-in or vintage feel.
Every order includes our H&T Sticker Card for free.
Shirt pictured is size large after being washed.
This design is also available on: